Maybe you already knew this, but SF is a pretty food-ish town- so they didn't even blink when I said yo dudes want 15lbs of bacon and make whatever you want?  They just rolled up their sleeves and said no big woop what about we do jam, ice cream, cupcakes,  macaroons and also other stuff?  Dudes, it really was that awesome…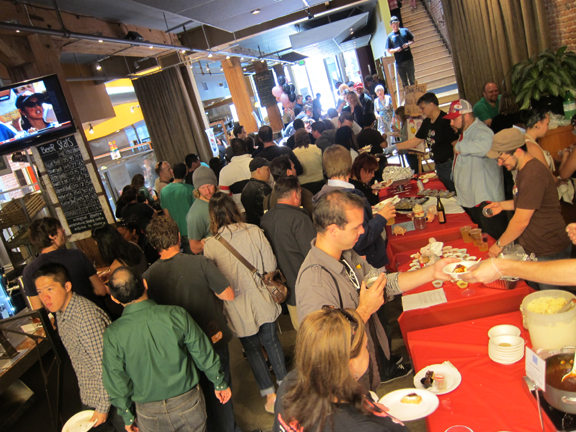 Thanks to all the cooks for their super hard work and amazing foodstuffs!!! Thanks humongously to Thirsty Bear for being such a cool and brillo venue, with tons of crazy good organic beers and also very cool and nice bartenders! My sponsor Hormel Black Label Bacon hooked up the bacon big time on this, the 4th leg of this years Bacon Takedown Tour!!!  I get all happy thinking about how awesome this is going, you guys!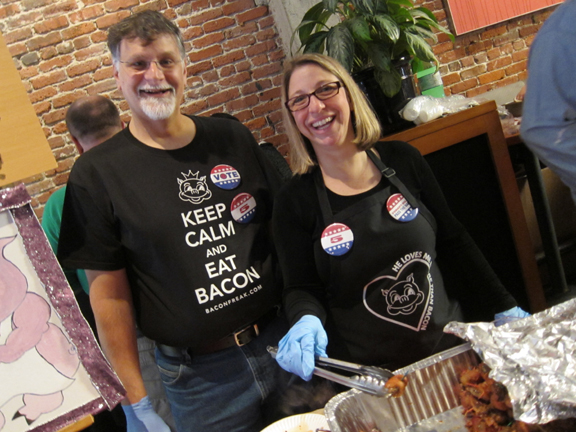 Here, without further ado, are the WINNERS and RECIPES!!!
People's Choice Awards:
1st: Seana Mickols – Bacon Jalapeño Popper Tamales
2nd: Kai Kronfield (Nosh This) –The Frosty Wilbur (bacon ice cream)
3rd: Pig-Maki (Krista) – Aloha Roll & BLT Roll
Judges Choice Awards:
1st: Ivy Something – Bacon Fried Chicken & Sweet Potato Biscuits
2nd: Aihui Ong (Lovewithfood.com) – Bacon Macaroons w/ Bacon Infused Port Wine Filling
3rd: Trace Williams (East Bay Food Revolution)– Bourbon Bacon Jam
Full Contestant List & Recipes
Trace Williams (East Bay Food Revolution)– Bourbon Bacon Jam w/ Brie on Crostini
Kai Kronfield (Nosh This) –The Frosty Wilbur (bacon ice cream)
John Simone – Beacon Peanut Butter Pimp Bars
Mark Danziger – Candied Bacon Jerky
Bacon Liveration Front (Charles & Julia) – Rockin' Rumaki
Ivy Something – Bacon Fried Chicken & Sweet Potato Biscuits
Aihui Ong (Lovewithfood.com) – Bacon Macaroons w/ Bacon Infused Port Wine Filling
Tom Herndon – Multiple Hogasms
Kajsa Sexton – Bacon Peanut Brittle
Matt Zito – Bacon Wrapped Stone Fruit
Elaine So & AJ Patel – Baco-Nut
Marisa Lagos – Ravioli tre Porcellini
Seana Mickols – Bacon Jalapeño Popper Tamales
Pig-Maki (Krista) – Aloha Roll & BLT Roll
Bacon in the Streets, Pig in the Sheets (Alyssa Medilla & Katy Rowe) – The Kings Revenge, Cupcakes of Doom