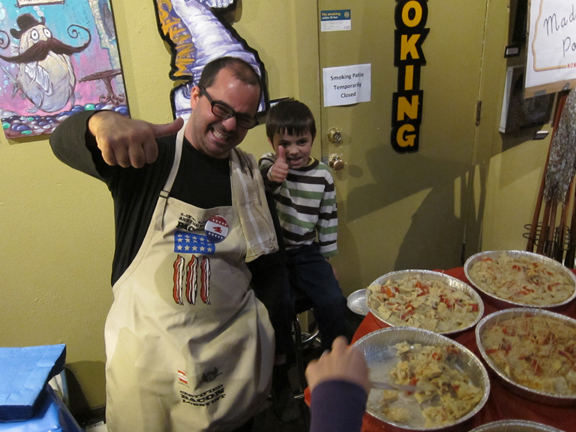 I don'twant to leave.  Maybe I'll miss my flight and stay here where the air is clean and the people brütalize  bacon with ABANDON.  Everyone was super sweet and nice, because why wouldn't they be?  If I lived in paradise I'd be pretty relaxed all the time too.  Bacon Tortillas. Bacon Flan. Bacon Truffles.  My brain snapped.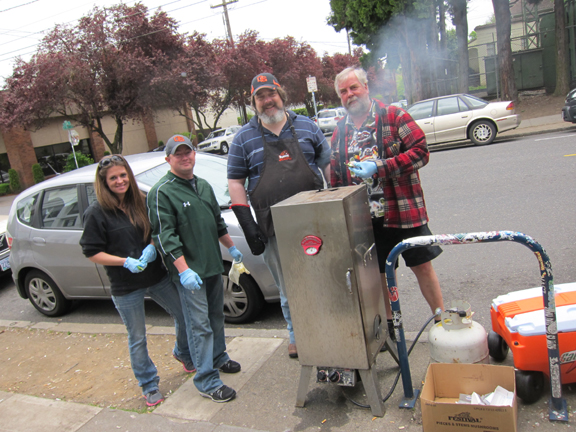 The Good Foot was a super brilliant venue, with local psycho awesome art all over the walls. Huge thanks to them.  And thanks to my lovely sponsors, Hormel Black Label Bacon for supplying this stupendous venue with 300lbs of bacon. Jeezo man.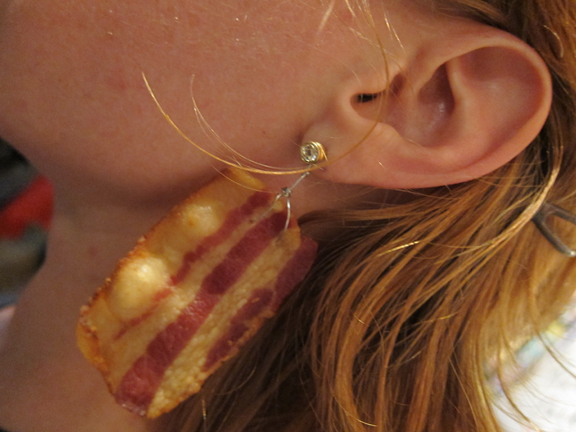 Thanks to my prize sponsors- Le Creuset, Wusthof, Anolon, Microplane and Edgeware– for creating huge stacks of the sickest prizes for these fine people…
More pics up at THE TAKEDOWN Facebook page!!!! Add yourself there and on my @chilitakedown tweeter tweets – and get on my mailing list(be sure to say you're from Portland)!!!
Now here's the part you've been waiting for – HERE ARE THE WINNERZ and a rundown of aaaaaalllll the bacon recipes.  Read and learn:
Overall winners, Sean O'Neill and friends, strode into the place in construction hats and gear and served Bacon-sketta- bacon bruschetta behind a "Bacon Workers" street sign. The team took home the first place trophy, a one year supply of Hormel® Black Label® bacon, cookware and more!
People's Choice Awards:
1st: Nick Braddish, Sean O'Neill and  and Geoff
Hendersen-The Bacon Workers – Bacon-sketta
2nd: Clark Haass – Bacon Hash with Caramelized Onion & Kale
3rd: Lori Phelps – Chocolate Bacon Truffles
Judges Choice Awards:
1st: Brian Nguyen & Debbie Sung – Bacon-lava and Porky Profiterole
2nd: Team Tremenda (Amy & Lya) – Bacon Coffee Flan
3rd: Leon & Dani Anderson – Bacon Jalapeño Cornbread with Whipped Honey & Cardamom Butter
Full Contestant List & Recipes
Dave Wilson & the Beaver BBQ Team – "Fire in the Hole" Jalapeño Poppers with Bacon
Clark Haass – Bacon Hash with Caramelized Onion & Kale
Brett Stern – All-natural Blue Bacon
Luis Ponce de Leon – Spanish Tortilla
Brian Nguyen & Debbie Sung – Bacon-lava and Porky Profiterole
Kris McDowell – Chocolate Salty Balls
Alex & Mandy – Cajun Maple Bacon Sensations
Team Tremenda (Amy &Lya) – Bacon Coffee Flan
Shannon of Slice Brick Oven Pizza – Pig Marion Pie
Sean O'Neill – Bacon-sketta
Meat-a-palooza (Nathan) – Flying Pigs
Allison Jones – Bacon Pecan Pies
Steve Carder (The People's Sandwich of Portland) – BLT-ish
Lance & Raena Mayhew – Bacon Bourbon Maple Pralines
Sty Wars! Chewbaccon and Ham Solo (Pechluck Laskey) – Bacon Rice Crispies
Karol Collymore – Butternut Squash Bacon Enchiladas with Tomatillo Salsa
Charlene Wesler – Bacon Oatmeal Cookies with Cherries and Almonds
Lori Phelps – Chocolate Bacon Truffles
Meat ala mode (Kristina) – Maple Bacon & Cheese Pie with Bacon Maple Milkshake
Leon & Dani Anderson – Bacon Jalapeño Cornbread with Whipped Honey & Cardamom Butter
Roey Thorpe -Bourbon Bacon Peach Crumble aka "Man Bait"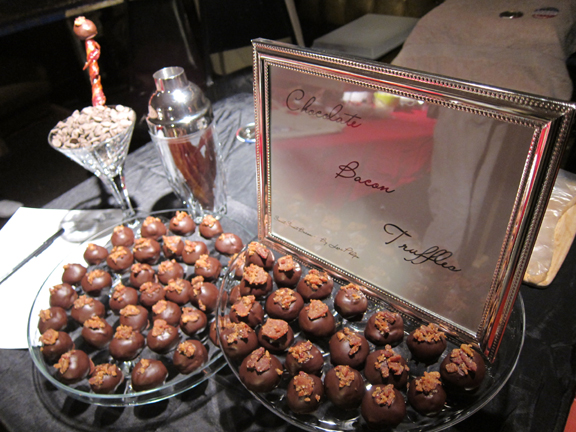 Sponsored:
Prizes sponsored by: