FREE !!!!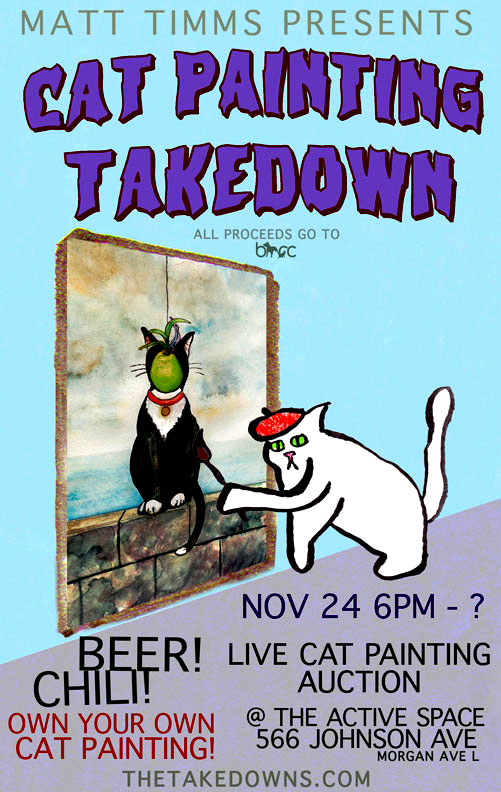 (poster by Susanne Lamb!!! Artist and cat expert!)
ALL $$$ goes to BARC the animal rescue center in Williamsburg!
Hope you like hugging catz!  And also owning your very own cat painting!!! Is that your dream??? Matt Timms can fulfill your dream!!!  Because 20 of Brooklyn's TOP ARTISTS are painting cats- to be auctioned off just for you!!!  Drink!  Watch them paint!  Watch cat vids! Eat chili!  Party!  Laugh and laugh! Enjoy njoy a quality art experience of catZ!!!!
Nov 24!!!  6 PM to INFINITY!!! at The Active Space Gallery in Bushwick!  566 Johnson Ave at the Morgan L stop! Auction at 8PM!!!!
ARTISTS!!! COME AT ME!! Sign up and I'll have a canvas and easel waiting for you!!!  Bring your own paints!!! Email me at chilitakedown at gmail!!!!
Even the MOMA knows that cats are High Class and Important For Painting!!!
ALL PROFITS BENEFIT:
SPONSORS: