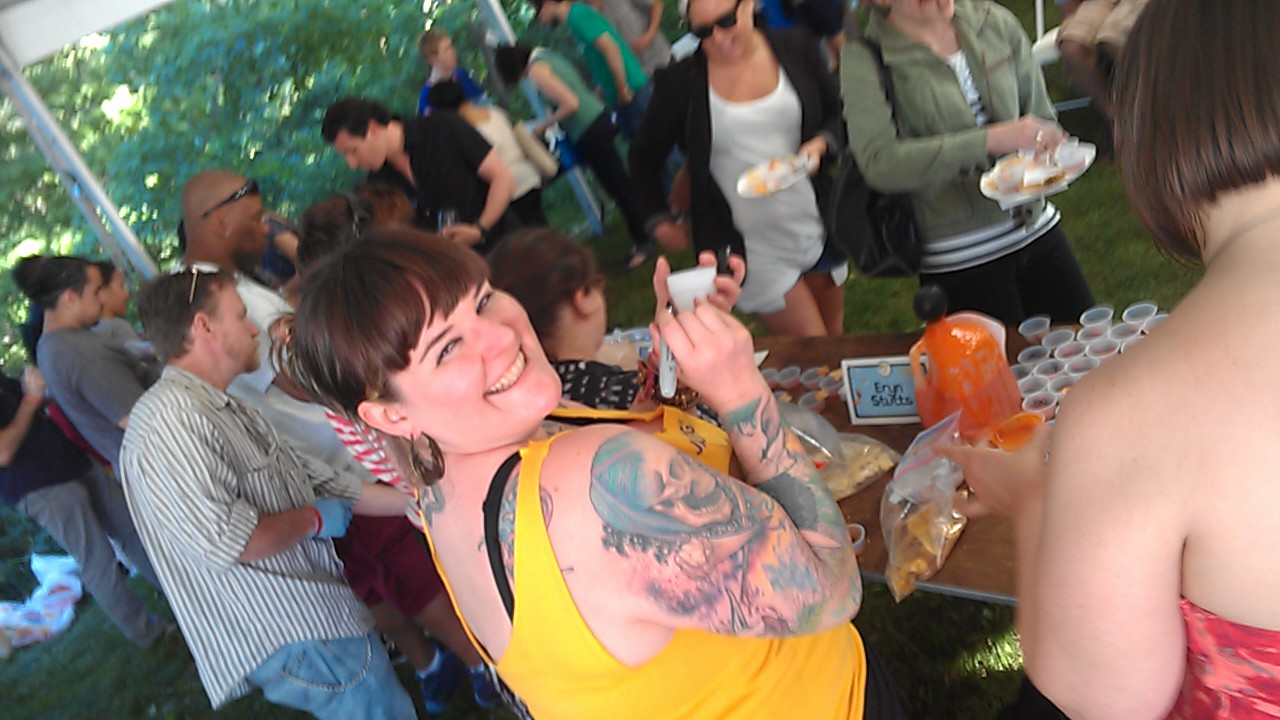 The blood of Sparta flows through the godly bodies of my Takedownerz.  I know this because I was there.  I saw my small squad of 20 cooks look out upon the field, and coolly survey the tens of thousands of googamoogers. A hawk circled over the field, screaming like this: KAWWW! KAWWW!!! That's when they knew.  This place would burn.
The Takedownerz did what they had to do, and set grimly to their cauldrons of hot sauce that would could kneel a colossus.  And that weekend, they did make the attendees of Googamooga kneel to their will… and exploded their hearts!!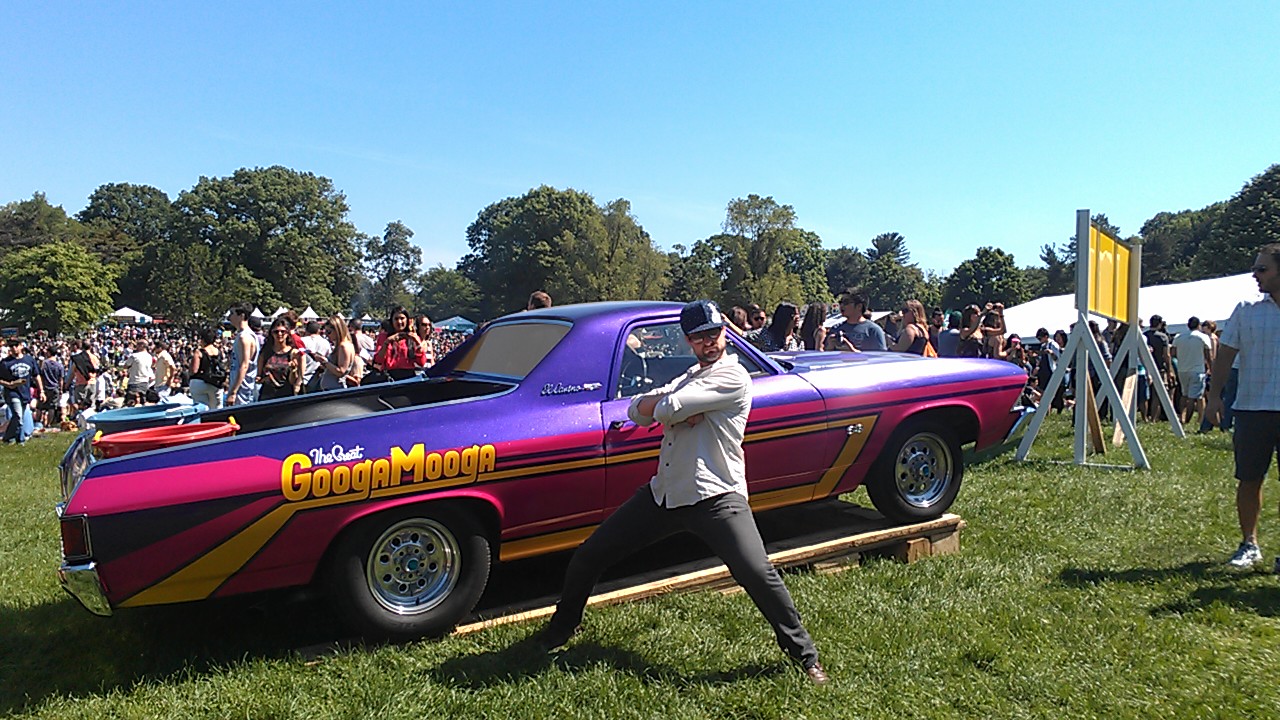 AFTER THE JUMP here's a list of Saturday and Sundays competitors, their hot sauces- as well as the winner champs who won…
#1 Mike O'Neill Ghost Sauce
Made with: Ghost Chilis, Jalapeños, carrots, onions, garlic, cumin
#2 Melissa Sands – Habanero Incognito – A lacto-fermented habanero, cherry bomb and garlic hot sauce with fresh mango. This treat comes disguised as innocent, sweet mango goodness, but there's fire and flavor on the finish.
Blueberries / Blackberries
Scotch Bonnet Peppers / Chile Peppers / Jalapenos
Chipotle Peppers / Habaneros / Cayenne Pepper
Onion / Garlic / Vinegar / Brown Sugar / Tomatoes
#4 Eryn Stutts- Cockonut Sauce by Ugly Food Tastes Better. A base of from scratch sriracha acts as a loving home to a family of habaneros and scotch bonnets raised in coconut vinegar. All pepper parties then blended with coconut flakes and were double strained through a sieve for the perfect texture. Served on plantain chips that were toasted in coconut oil and rolled in fresh coconut.
#5 Emily Hanhan – The Bloody Marys – A vodka-spiked hot sauce with thai chiles, habaneros, horseradish, celery, pickles, Worcestershire sauce and tomatoes. Served with a celery and onion saltine. Just like brunch, only hotter!
#6 Rick Simmons –
Rick's Rocket Sauce
#7 Patricia Clark –  Ninja Blood
It was a creeper combo of wasabi, umeboshi plum, ginger, Thai red chilis, rice wine vinegar and sesame oil
#8 Sabrina Mossberg – Habanero Honey – A slightly sweet slow burning mixture of habaneros, garlic, red bell peppers, carrots & caramelized honey.
#9 Sonya Samuel – "Bacchanal Hot Sauce!" A West Indian Inspired Hot Sauce
#10 Piers Moreton – Red Head Hot Sauce
#1 Sara Kinney + Halston Bruce - Fuck Yeah! Hot Sauce
#2 Elle Forde – MANGO LIME HOT SAUCE
12         Mangos – unripe
2lbs      Scotch bonnet peppers
4oz   Thyme – fresh, stems removed
4oz   Shado Beni – fresh (may substitute cilantro if unavailable)
#3 Allyson Mabry -  Island's Revenge – Citrus and cilantro with habenero peppers and chiles de arbol toasted sesame seeds and garlic
#4 Omar Tungekar – Saddam Hussanity
Saddam Hussanity Sauce takes traditionally-crafted hot sauce and infuses it with mad Middle Eastern flavors. We take things to the next level by combining our blend of naturally fermented chilies with aromatic spices, Basra lemons (black lime), garlic and vinegar. The final touch is a carpet bombing of locally-grown ghost peppers which give the sauce its blast of initial heat. Once you get past the Shock & Awe of the ghost peppers, the aromatic flavors brought out by fermentation take over, leading to a juicy and surprisingly sweet finish enhanced by the black lime and complimentary spices.
#5 Charlie Mirisola + Will True of The Brooklynauts – Brooklynauts sauce
Rosemary lemongrass simple syrup
#6 Jimi Daly – "Berry Loud" by Daliente (Jimi Daly)
A monster ballad of flavor. Sweet melodies of strawberry, pineapple, blueberries, and raspberries followed by blazing riffs of habeñero and garlic that leave your lips humming and tongue screaming for more.
#7 Laura Maio-Zimroth -Skatchango: A Caribbean riff on Siracha
#8 Stephanie Venetsky – Garden Fresh Hot Sauce
#9 Daniel Marino
#10 Maria Ramroop - Spicy as Hell Hot sauce -Delicious Blend of  Habernos, Sweet Peppers, Garlic, cilantro, salt, pepper and vinegar. (ON SALE AT ETSY)
2nd: #7  Patricia Clark – Ninja Blood
3rd: #10  Piers Moreton – Red Head Hot Sauce
1st #7 Patricia Clark – Ninja Blood
2nd #10 Piers Moreton – Red Head Hot Sauce
3rd #9 Sonya Samuel – Bacchanal Hot Sauce!
1st: #5  Brooklynauts – Brooklynauts sauce
2nd: #1 Sara Kinney + Halston Bruce – Fuck Yeah! Hot Sauce
3rd: #8 Stephanie Venetsky – Garden Fresh Hot Sauce
Honorable Mention: #6 Jimi Daly  "Berry Loud"
1st: #6 Jimi Daly – Berry Loud
3rd: #5  The Brooklynauts – Brooklynauts sauce
The Takedown is so pumped to be a part of the first ever Googamooga.  Man oh man, what an awesome weekend!!!!  Charles Bradley burned the stage to the ground. A Foie Gras Donut made us all feel bad about ourselves in a naughty way.  A "bacon flight" was a thing.   Just looking out on all the thousands of stuffed, awesome dancing people when Hall and Oates came out – this was a historic time- so glad to be a part of it… THANKS GOOGAMOOGA!!! And of course as always, THANK YOU TAKEDOWNERZ!!!!!!