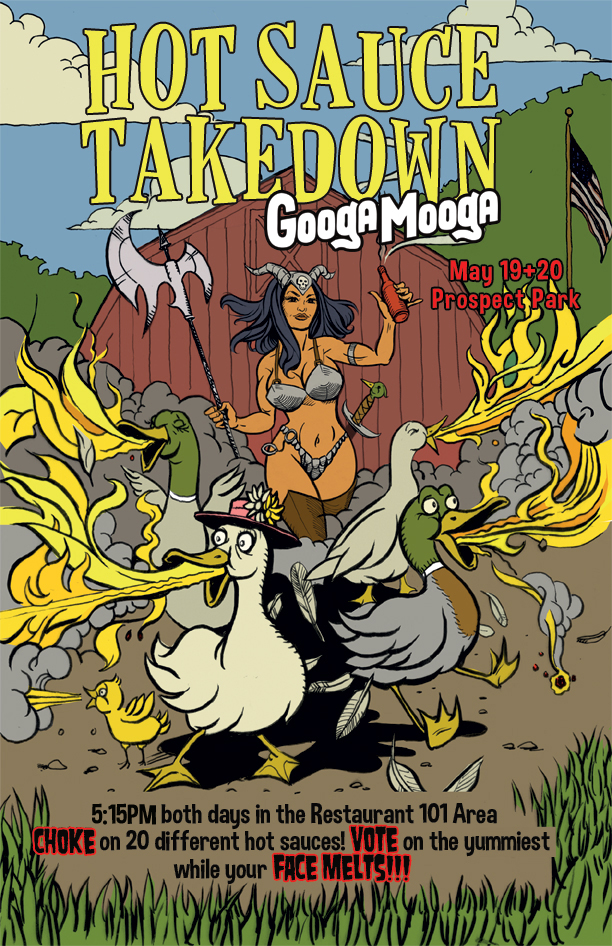 ALL SPOTS FILLED! (but EMAIL ME to get on my mailing list, for other equally amazing takedowns!!)
Can you even believe it!!!???  The biggest food event all year (May 19+20) has decided, in their utmost smartness, to make a Hot Sauce Takedown to happen!!!
5:15PM-6:45PM May 19 + 20 in the Restaurant 101 Area at Googamooga in Prospect Park!
As the benevolent ruler of the Takedown, I said sigh, okay I guess I will have to unleash 20 googleplex tonz of lovingly-locally-made hot sauces upon this land.  Let's make it happen…!!!!!  Over the 2 days, there will be 20 Brooklyn local hot sauce sizzlers in attendance, and YOU will judge the hellishness of all of them!!!! VOTE to determine the coolest of the hotttt.  The endorphins floating around Googamooga would blow any roof off, so thank God and Hall and Oates that this is an outdoor takedown…!!!!