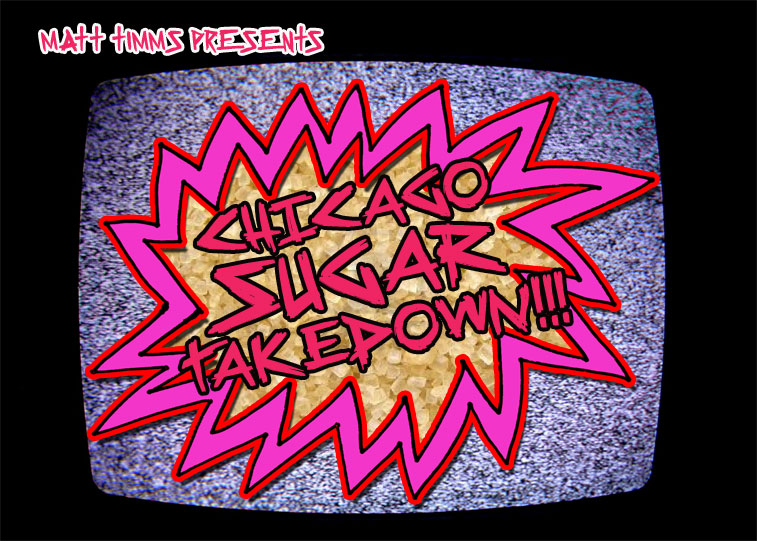 Hello Chicago here is a challenge that should blast your home cookin' minds utterly.  At the Chicago Food Film Fest, I'm giving each home cook a FREE 18lbs of Sugar in the Raw, to make any dish at all!!!  You could make sweeties!  Muffins!!! A pop!!!!  Or some candied savory thing you think is important!!!   The point is, bring in your finest sweet-ass recipe that best defines this most funnest of sweeties!!! The crowds will judge the winningest!!!
CHICAGO COOKS!  EMAIL ME at CHILITAKEDOWN @ GMAIL to compete for prizes!!! I can give you 18lbs of any type of Sugar in the Raw (pickup TBA) and you dream up any recipe involving sugar – could be a candy, a drink, or even a savory!  Up to you!!!  Make it divisible by 250 tastings (not whole dishes! Just tastings) and bring it in Nov 23 to Kendall College for the crowds to enjoy!!! I will provide all cups, tasting cups, napkins, plates and any other expendables!     Email me to sign up and with any questions!
At the Chicago Food Film Fest, Saturday November 23  –  at Kendall College!  Come check out a day of food films, brilliant food and booze- culminating in a mind-breaking Takedown to put all other takedowns to SHAME!!!!  Tickets HERE!
SPONSORS:
PRIZE SPONSORS: