CALL FOR ICE CREAM COOKS!  Email Matt@thetakedowns.com to compete!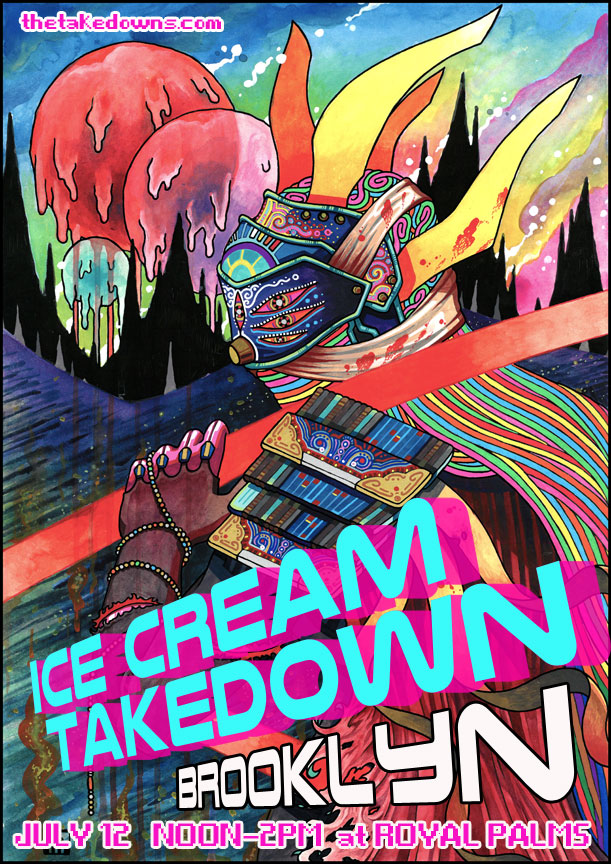 Summer is a terrible time. My skin goes lobster red and I cry a lot, covered in aloe.  If you're not like me, you're super cool and your cocoa tan attracts the opposite sexes.  What I do, at a time like this, is eat ice cream.  You can too!!!! UNLIMITED  ICE CREAMZ MADE BY BROOKLYN'S FINEST HOME COOKS, DOODS!!!!
TICKETS HERE (TICKET LINK COMING SOON)!
Check out this year's Ice Cream art, by Nikklas åkerblad – the Swedish artist who did most of the promo art for the World's Dopest Video Game: Hotline Miami!!!!  I tracked him down via Skype, and he's a raging homicidal maniac who just wants to help out!  Did you know?  Ice Cream Ronins roam the earth in secret- hired assassins who's only reward is more ice creamz!!!!
* yeah world famous, for real! We were on Japanese Television (NHK) last year, in a hugemongous ice cream fight!
ICE CREAM SPONSORS/JUDGES:
PRIZE SPONSORS:
Portion of procedes benefit Women's Education Project!