The best thing about Los Angeles is … ONLY EVERYTHING.  Guess what you guys? It was a FURIOUS BLAST of AMAZING FUN in the culinary epicenter of the UNIVERSE FOREVER. My heart…  is full.
Thanks to DuoDishes for a supersweet wrap-up article…  Check out PICS at The Takedown on Facebook!!!!  And add yourselves!!! And check out photog Sherman Lee's amazing shots of happiness HERE!!!!!
The Bootleg Theater was the finest venue to host this particular avocado hatefest. And Avocados From Mexico was the dopest sponsor to make this event go SWIMMINGLY and also AWESOMELY. Each contestant got an ENTIRE CRATE of beautiful Hass Avos to marmalize each other with.  THANK YOU, DUDES!!! The whole staff there was super nice and ridiculously hard working.
In unrelated newz, my first day in town was a STRESSER!!!  Listen to this! I went out for a nice taco dinner with some friends, said goodbye and got back into my car to drive home…  the car wouldn't start.  Then the driving wheel locked. I went into the glove compartment and couldn't find the manual, and I started swearing and freaking out, because it was getting pretty late and I had a lot to do the next day. That's about the time the door opened and a cop leaned in and asked me what the fuck am I doing in his unmarked squad car? I almost swallowed my face.  In my defense, my rental looks EXACTLY like his unmarked squad car! I swear!  It's a small miracle that my brains aren't splattered all over Santa Monica. Instead, he let me go, saying he understood, mistakes happen and anyways "I don't look the type". WHAT THE HELL IS THAT SUPPOSED TO MEAN???
Okay whatever anyway, check this out.   Everyone's a winner at a Takedown, but here are the Actual Winners:
Judged Awards:
(Thanks to judges The Guerilla Gourmet and Eric Boardman)
1st- #8 Adam Angeles – Deep Fried Avocados
2nd- #10 Clara Polito-  Avocado Caliente cupcake
3rd- #3 Teresa Wu – Avocado Creamcheeze Cake w/ Minty Avocado Whipped Cream
People's Choice:
1st- #2 Scott Gregory – Cowboy Bruschetta
2nd- #19 Mike Cohen – Avocado Ice Cream with Pomegranate Whipped Cream
3rd- #17 Casey Suchan and Brandon Ficara – Avolcano (habanero/jalapeno/serano vegan cheeze and avocado pastries)
AFTER THE JUMP, here's all the Celebrity Avo Fighters in table order!!!!
#1 Meng Loh – Avocado and Bacon Cheesecake
#2 Scott Gregory – Cowboy Bruschetta
#3 Teresa Wu – Avocado Creamcheeze Cake w/ Minty Avocado Whipped Cream
#4 Angela Carrasco – Pasta w/ Avocado Pesto +Avocado Fritters
#5 Herald Hirsch – Avocado Bacon Muffin
#6 Craig Petrella – Avocado Filled Hangar Steak
#7 Duo Dishes Chrystal Baker and Amir Thomas – Mini BLTA Whoopie Pies
#8 Adam Angeles – Deep Fried Avocados
#9 – Alex and Becca Quinonez Patrick – Avo Tacos
#10 Clara Polito – Avocado Caliente cupcake
#11 Deconstructed BLAT – Ingrid Kiefer and Matt Himes – Deconstructed BLAT
#12 Jeremy Friedman – Acocado Ricotta Gnocchi with spicy carrot curry sauce
#13 Nick Inglas – Avocado Pie
#14 Anna O'Steen – Avocado Fries
#15 Darby Saxbe – Dark chocolate truffles
#16 Courtney Kennedy – Spicy Poma Grape Guac
#17 Casey Suchan and Brandon Ficara – Avocaino (habanero avocado pastries)
#18 Andy Suchan – Chocolate Avocado Mufins with Avocado Frosting
#19 Mike Cohen – Avocado ice crea with Pomegranate Whipped Cream
Sponsored by:
Sponsored by: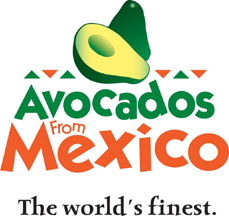 Prize Sponsor: