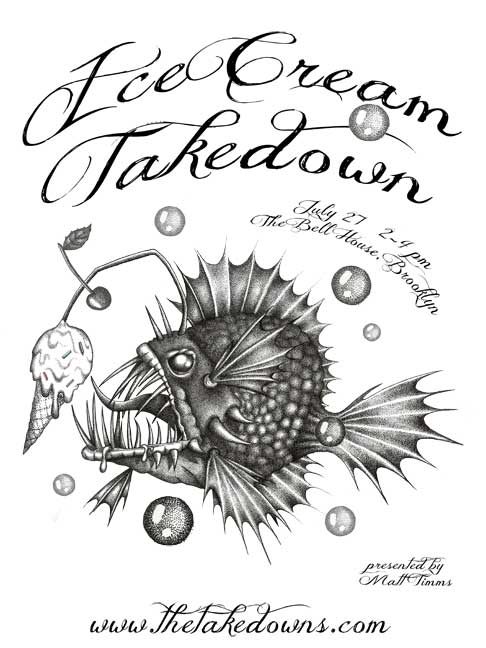 July 27 2-4PM at The Bell House
TIX UP HERE. $20! TRY UNLIMITED LOCAL ICE CREAMZ!  ORGASM!
Finally it's time for Brooklyn's forever ice cream party to fist the sun!!! The boiling summer heat shall at last be tamed!!! This is a fizzy world we live in, you guys, with a billion different ice creams to be vacuumed up and it's by you.  Valour.  Courage.  Honor. It's time for real heroes to smush the faces of the cowardly, and churn us into pints of fun!
CALL FOR ICE CREAM MAKERS!  Email chilitakedown@gmail.com !!! Use your ice cream makers, mixers, or nitrogen to make your finest 2 gallons of smart ice cream!!!!    Bring it on in and I'll provide extra dry ice for your coolers!  You're fighting for KitchenAid® Stand Mixers!!!!! And Wusthof, Anolon and Microplane cookware!!!!!
Tickets up soon at  The Bell House!!! Just $20!!!!
Eye-buggin' art from the ice cream deep by Tessa!!!
NYC ICE CREAM JUDGES & TASTINGS:
PRIZE SPONSORS:
Portion of proceeds benefit Women's Education Project!