Remember, any poster featured is available for $12!  EMAIL ME for detes!!!
Enjoy Takedown art, over the years!!!
Since the beginning, The Takedown relied on an expert publicity campaign to get the word out. Artist Matt Langland is central to this media blitz. His art, as you can see, is perfect. Warrior princesses do battle in distant lands to rescue (or destroy?) bowls of chili. Goat headed snake men who dare partake of chili most foul are hewn in two by vixen sorceress babes.
Unlike most art, I totally get it.
Scroll down, and you'll see the occasional GUEST ARTIST as well!!!  Enjoy!!!
artist Luke Ramsey!
visit Luke Ramsey's site!
Visit Augenblick Studios!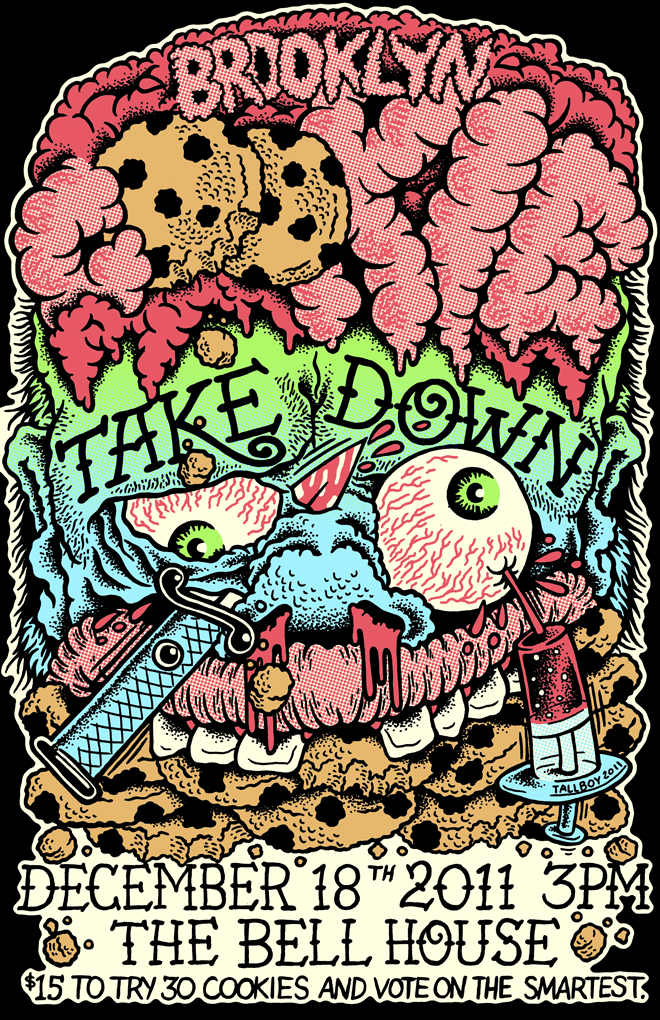 Depth charge!!!! Matt Timms had to change and change and change his underpants when Tallboy presented him with this thoroughly metal-blasted image of a dead guy who loves cookies- to get people in the mood for the 2011 Cookie Takedown!!!! Fly!!!! On your wings!!!! Like an eagle!!!!!! Thanks Tallboy!!!!