Do you have stuff???? !!!  GET A BAG FOR IT!!!!  A BACON TAKEDOWN BAG ATTAK! (for fashion and utilitarian purposes only!) $10 is your ticket to freedom!!! Be the wings of the eagle on the mountain of your tomorrow!!!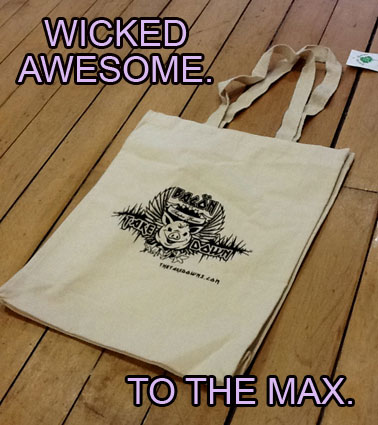 And now… TAKEDOWNERZ!  COLLECT THE CRUË!
Meet your new best friends… 3 monsters who all they do all day is eat junkfood and rap about how much they LOVE YOU!!!  They are experts at going to Takedowns, and pretty much like all the things that you also like!
Email chilitakedown@gmail.com to get you one!!!
AND>>>>
The MOST METALBLASTIC DISHRAG TO POP YOUR MOM'S EYEBALLS!!!!  WHO CARES?? SHE'S NOT THE BOSS OF YOU ANY MORE!!!!
WHUUTTT???? ONLY $5??? GO FOR IT!!!!!!