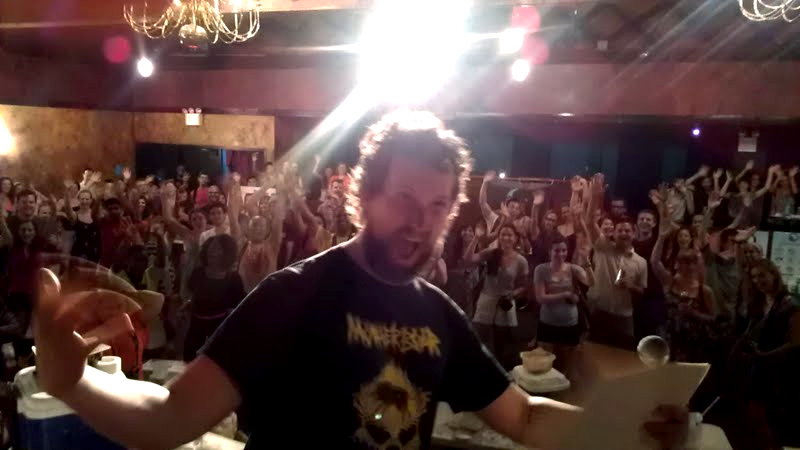 A special big big thank you to the Ice Creamers of Brooklyn, making 2 gallons each to tame a heat wave and bring joy and pizzazz to the Bell House!  You guys are infinitely cooler than your average Brooklynite.    Thanks also to Dream Scoops, Adirondack Creamery, Laboratorio del Gelato and Blue Marble for coming out, handing out huge samples around the place, and judging the ice cream efforts!!!
See the GORGEOUS ICE CREAM SHOTS up at Serious Eats!!!
In serious news: there was a MUSHROOM ICE CREAM!!! Sounds gross!  Wasn't!!!! In fact, there wasn't a gross ice cream in the whole place-  ask anybody!!!  Here after the jump is a list of all the competitors- and the Takedown Ice Cream champs of 2012!!!!i lov you gys.  i mean.  really.  What's not to love about peopel who are awesome???
1st #15 Susan Palmer – Belgian Supreme
2nd #18 Jersey Corn + Carmomon
1st #9 Jill Strominger  -Sundae Fundae'
2nd #19 Julie Barnard – The Gun Show
3rd #15 Susan Palmer –  Belgian Supreme
4th #13 Susan Caprio – Sugar Mama Nut Cracker
Cesar Alfano: Tequila Key Lime Pie [4]
: Grapefruit Sherbert [4]
Loreal Monroe: Game of Macarons [11]
Adrian Ashby: Catalina Wine Mixer [8]
Angela Sanchez Christmas in July Coquito [8]
Eryn Stutts: Cotton Candy Custard [4]
Danielle Regan: Ectocooler
Noah Berland: Have a Date with Newton [7]
Jill Strominger: Sundae Funday [31]
Nicole & Kate: Master Cleanser [4]
Anthony Santoro: Papa Luigi's Spumoni [6]
Franklin Zitter: Creme de la Candy Cap [6]
Susan Caprio: Sugar Mama's Nut Cracker [13]
Sonya Samuel: Coco Bliss [12]
Susan Palmer: Belgian Supreme [15]
no show
Russel Berger: Chocolate Mint Crisp [7]
Lauren Dobkin: Ice Cream Trio [11]
Julie Barnard: The Gun Show [16]
Greg Erskine: Salted Malted Chocolate Exhalted [10]
Josette Gordon: Cherry Coconut Frozen Yogurt [2]
Ben & Stephanie: Black Strap-on a Ginger
Cristy Alvarado: Baklava [11]
no show
Brian Hoffman: Blueberry Pancake [4]
Patricia & Sean: Cherry on Top [9]
Prize Sponsors:
Portion of procedes benefit Women's Education Project!