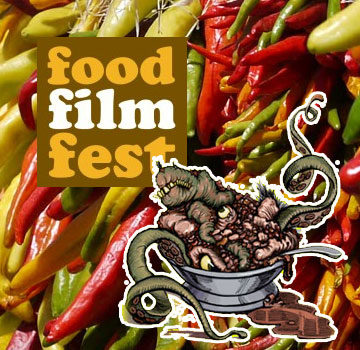 After watching a serious ass movie about Hatch Green Chiles, attendees at the NYC Food Film Festival got their lucky little hands on a serious ass Hatch Chile Takedown!!!  Not one but twelve different Hatch Chile recipes- all brought forth in the gentle hands of Brooklyn's finest home cookz!!!!
Pics up at Matt Timms' INSTAGRAM: @thetakedowns !  More coming soon from the awesome dudes at the
NYC Food Film Festival
!!!
Here's all the skuzzballs that entered because they dared!!!! And the winners that rose above the madness to win sweet prizes from Anolon, Microplane and Wusthof!!!
#1  Clay Ezell and Vadis Turner  – Chocolate Hatch Cake
#2 Adrian Ashby – Green Chile Hummus
#3 RAchel Salerno – Drunken "Drogon" MAc n Cheeze
#4 Andrew  Gottlieb – Green Chile, Pork and Mustard Green Posole
#5 Emily Hanhan  – Green Chile Cocktail Hour – Green Chile Queso & Chips with Gren Chile Salted Margarita
#6 Mike O'Neill and Kristine Schmidt – Stuffed Poblano Medallions
#7 Alice Q. Houang – Jalapeno Keylime Pie Shooter
#8 Patty Clark – Green Chile Smash (Bourbon) with Green Chile Jam Arepa
#10 Rick Simmons – Stuffed Pork Loin in a Gren Chile and Fruit Sauce
#11 Sabrina Mossberg – Green Chile Queso Dip
#12 Eryn Stutts – Green Chile Soup
#13 Clifford Gulibert  – Breakfast chile
1st Place #11 Sabrina Mossberg – Green Chile Queso Dip
2nd Place #4 Andrew  Gottlieb – Green Chile, Pork and Mustard Green Posole
3rd Place #3 RAchel Salerno – Drunken "Drogon" MAc n Cheeze
PRIZE SPONSORS: