CALL FOR BAKERS!  Make them cookies?  Then it's time to fight for your right!!!! Email Matt@thetakedowns.com to compete for crazy amounts of prizes….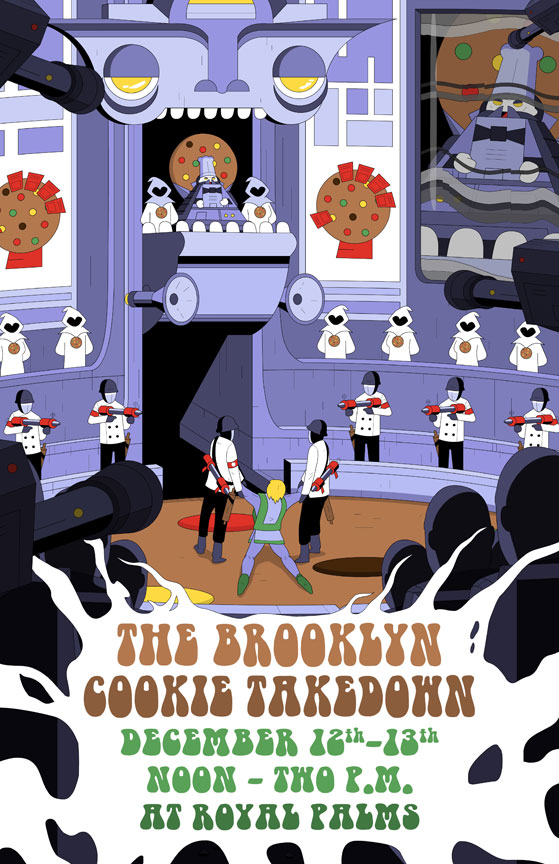 It's the holidays and we all know what that means: Murder! I mean COOKIES!!!!  This is the 2nd year in a row I have turned the notoriously fun Cookie Takedown into a 2 day event!   Come Saturday OR Sunday, and feast on endless cookies!   It's an ENTIRE WEEKEND of Brooklyn's best Cookies!!!!
Brooklyn Cookie Takedown December 12 AND 13 Noon-2PM at Royal Palms Shuffle Board Club!!!  Cooks!  Pick the day you'd like to compete- both  days are seperate competitions!!!!
Want to come eat all the huggy cookies!??!?  Tickets below!!!
DAY ONE (Saturday Dec 12) HERE
DAY TWO (Sunday Dec 13) HERE
Art by the mind genius Sean Kurt-Russell Sullivan of Augenblick Studios!!!!
PRIZE SPONSORS:
JUDGES:
Portion of procedes benefit Women's Education Project!
CATEGORY:
General