Definitely, and because there are only a BAJILLION gluten-free warriors wandering a desolated wasteland who have never had their very own takedown, this is historic.  August 24, 2-4PM at the Bell House!!! The first ever Gluten Free Takedown!!! What is your interestingest, favorite fisticly gluten-free recipe???  BRING IT to the Bell House! And destroy all our faces!!!  Fight! Because the prizes are wizard!
Email me at chilitakedown@gmail.com to compete!!!
*competitor rules below!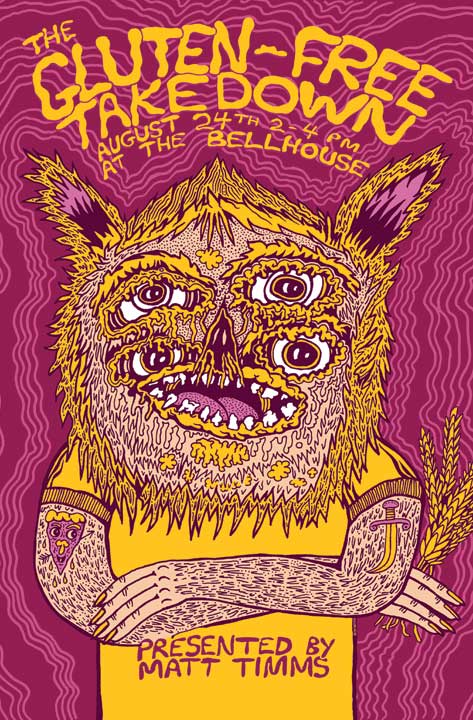 Want to eat infinity gluten-free inventions of course? Tickets at The Bell House!!!
Oh and drop yourself some acid to necessarily enjoy Killer Acid's poster art!!!!!
* so if you want to enter, you and a partner in FREE with your dish.  Could be anything, as long as it's gluten free!  (Please specify if it's safe for celiacs!)   Make 250 bites of anything- whether it be ice cream, pizza, or whatever!  Make something easily divisible into small tasting size bites!  I provide tasting cups, sterno set ups, paper plates, spoons, whatever equipment you need!  Email me at chilitakedown@gmail.com to compete
SPONSORS:
PRIZE SPONSORS:
Portion of proceeds benefit Women's Education Project!
CATEGORY:
General